Adapting to Climate Change
HC 113, Sixth Report of Session 2009-10 – Report, Together with Formal Minutes, Oral and Written Evidence
Author:

House of Commons – Environmental Audit Committee

Publisher:

TSO (The Stationery Office)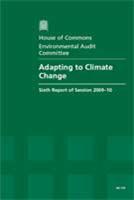 Add to Basket
Climate projections show that Britain can expect wetter winters, drier summers and a higher likelihood of flash-floods, heat waves and droughts. However, adaptation to climate change has been given only a fraction of the attention that has gone into reducing greenhouse gases, reports 'Adapating to Climate Change (HC 113)'. The Government must build awareness and support for the wide-ranging and urgent programme of action that is needed to protect people, property and prosperity and safeguard the natural environment.
Adapting infrastructure and homes will be expensive. To maintain current levels of flood protection for homes, real terms spending on flood defences will need to increase from its current level of around £600 million per annum to around £1 billion in 2035.
Estimates in 2009 suggest that by the end of the century around £7 billion may be needed to improve the Thames flood barrier and tidal defences. New homes being built now must be designed to cope with the inevitable changes in climate over the next 50 - 80 years.
Recommendations:
The Government must make adaptation and mitigation more central to the planning system. New developments should only be permitted if they are suited to future climates. Existing homes will also need to be adapted so that they are comfortable during hotter summers and better protected against the risk of flooding.
The Government must help to kick start an integrated retro-fitting programme that covers:
adaptation,

water efficiency, and

energy efficiency.
Green infrastructure - such as water storage, greater tree cover and more open green spaces - must also be promoted.
Find similar publications here: