Department for Work and Pensions: Management of Benefit Overpayment Debt
HC 444, Twentieth Report of Session 2009-10 – Report, Together with Formal Minutes, Oral and Written Evidence
Author:

House of Commons – Committee of Public Accounts

Publisher:

TSO (The Stationery Office)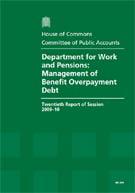 Add to Basket
'Department for Work and Pensions: Management of Benefit Overpayment Debt (HC 444)' examines the action the Department for Work and Pensions is taking to tackle overpayment and stem the rising trend in benefit debt; improve its knowledge of its client base; and set realistic targets to improve debt collection and improve write-off.
The Department has increased cash recoveries from £180 million in 2005-06 to £281 million in 2008-09. However, yet again, evidence proves that the Department needs to significantly improve how it makes benefit payments. The total amount of money owed to the Department as the result of benefit overpayments is now £1.85 billion and is rising as recoveries are not keeping pace with the increase in referrals.
Helping customers avoid getting into debt is important for both the Department and its customers in managing their finances, and the increasing total level of debt reflects the difficulty of recovering money once overpayments have occurred. Overpayments arising from Income Support accounted for over 70% of all debts at 31 March 2008. It is critical that the Department improves its debt prevention procedures and intervenes more directly to check that the circumstances of customers have not changed.
In 2007-08, some £9.3 million of small overpayments below £65 were written off because the Department considered them too small to justify the cost of recovery action. However, the Department does not distinguish between different types of debtor or different recovery routes in assessing whether the costs of recovery are likely to outweigh the benefits.
Find similar publications here: