The National DNA Database
HC 222-I, Eighth Report of Session 2009-10 – Volume I: Report, Together with Formal Minutes
Author:

House of Commons – Home Affairs Committee

Publisher:

TSO (The Stationery Office)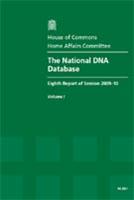 Add to Basket
As a result of growing concern about the increasing size of the police National DNA Database the Committee decided to take evidence on the subject. This process however was largely overtaken by the introduction of the Crime and Security Bill on 19 November 2009.
'The National DNA Database (HC 222-I)' now focuses on two main issues:
the principle of retaining DNA profiles taken from individuals arrested but not subsequently charged or from those charged but not convicted; and

the lack of consistency in decisions to remove from the database their profiles.
The Committee is strongly of the belief that DNA profiling and matching are vital tools in the fight against crime. Subsequently they don't question the taking of DNA samples from everyone arrested for a recordable offence. It is not known how many crimes are solved with the help of the stored personal profiles of those not previously convicted of a crime. It could therefore be argued that the DNA from those never charged with an offence should be treated differently from those charged but not convicted.
The Committee hopes that trends of arrests for flimsy reasons should decline and a return to the pre-2004, of DNA being collected only on charging rather than arrest, is not recommended. The corollary to this is that it should be easier for those wrongly arrested or who have volunteered their DNA to get their records removed from the database.

Find similar publications here:

Show all Subjects & Categories