Department for Business, Innovation and Skills: Venture Capital Support to Small Businesses
HC 271, Seventeenth Report of Session 2009-10 – Report, Together with Formal Minutes, Oral and Written Evidence
Author:

House of Commons – Committee of Public Accounts

Publisher:

TSO (The Stationery Office)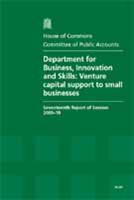 Add to Basket
Since 2000 the Department for Business, Innovation and Skills (the Department) and its predecessors have invested public money, alongside private investors, in a series of funds managed by private sector fund managers. The funds provide support to small businesses unlikely to receive support from other sources. The programme currently comprises 28 funds.
By December 2009 taxpayers had contributed £338 million, alongside £438 million from private investors. The Department's intervention in the venture capital market was experimental and risky yet it did not set clear, prioritised objectives for the funds, including the expected economic benefits. It also not set targets at the outset for expected rates of return. The Department did not begin to properly evaluate the progress of its early funds until late 2008 and, to the concern of the Committee, did not publish any information on the funds until December 2009.
The evidence suggests that the funds are underperforming. As at December 2008 the Regional Venture Capital Funds, the largest category of early funds, showed negative returns and the average rate of return was minus 15.7% whilst private European venture capital funds of a similar size had an average rate of return of minus 0.4%.
The Department has not done enough to curtail the high costs of managing the funds. Fees for the Regional Venture Capital Funds have totalled £46 million compared to the £130 million invested. Substantial fees have been paid to fund managers even though the performance of the funds has been poor.
Find similar publications here: