Equality and Human Rights Commission
HC 124, Fifteenth Report of Session 2009-10 – Report, Together with Formal Minutes, Oral and Written Evidence
Author:

House of Commons – Committee of Public Accounts

Publisher:

TSO (The Stationery Office)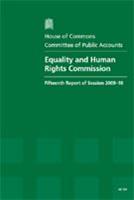 Add to Basket
'Equality and Human Rights Commission (HC 124)' examines the events leading to the qualified audit opinion on the Equality and Human Rights Commission's 2006-08 accounts and on the continuing weaknesses in the Commission's controls.
The Commission took up its new powers, and those of the former Commission for Racial Equality, the Disability Rights Commission and the Equal Opportunities Commission (the Legacy Commissions), on 1 October 2007. Serious errors were made in setting up the Commission, not helped by three changes of sponsor department in the months immediately before its launch. The Commission now accepts that it was not ready for business when the doors opened on 1 October 2007 and that its set-up process, which cost £39 million, was flawed and inefficient. It did not have in place:
sufficient senior staff;

a transition strategy;

business strategy;

organisation design; or

job descriptions.
Skills gaps were filled by bringing back former employees of the CRE as consultants, even though they had all received severance payments. The Treasury, which should have been consulted about these appointments, did not grant approval retrospectively as the Commission could not prove that the re-engagements gave good value for money. This expenditure was therefore deemed irregular and the Comptroller and Auditor General issued a qualified opinion on the Commission's 2006-08 accounts. This is not the way that the Public Accounts Committee expects public bodies to be run. Strong controls need to be in place to ensure that such errors do not recur.
Find similar publications here: