Defence Equipment 2010
HC 99, Sixth Report of Session 2009-10 – Report, Together with Formal Minutes, Oral and Written Evidence
Author:

House of Commons – Defence Committee

Publisher:

TSO (The Stationery Office)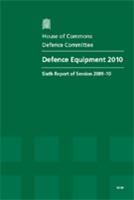 Add to Basket
The ability of the Defence Equipment and Support organisation within the Ministry of Defence (MoD) to deliver the equipment programme is overshadowed by the existence of a funding gap which the National Audit Office (NAO) estimates could be as much as £36 billion over the next ten years.
Both the NAO's 'Major Projects Report 2009 (HC 85-I)' and Bernard Gray's 'Review of Acquisition' for the MoD have confirmed that the MoD's ten year equipment programme is unaffordable. Furthermore the MoD's practice of delaying projects so as to reduce costs in the early years of a programme is adding to overall procurement costs and so further increases the funding gap. The MoD has apparently made no attempt to calculate the full extent of the costs of delays and it has taken decisions to delay projects without understanding the full implications of those decisions.
The report examines:
Progress on the many key programmes.

Defence research spending (declining from £540 million in 2007-08 to £471 million in 2009-10 and will decrease further in 2010-11 to £439 million).

The response to and implementation of the Gray report.

Balancing the equipment programme and the use of regular Strategic Defence Reviews to maintain an up-to-date strategic context for the equipment programme.

Clarifying roles and accountabilities, including better leadership and decision-making.

Injecting key skills and tools into Defence, Equipment and Support.