Department for Transport: The Failure of Metronet
HC 390, Fourteenth Report of Session 2009-10 – Report, Together with Formal Minutes, Oral and Written Evidence
Author:

House of Commons – Committee of Public Accounts

Publisher:

TSO (The Stationery Office)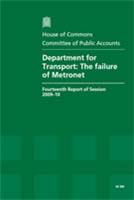 Add to Basket
In 2003, the Government entered into three innovative 30 year contracts with private sector contractors to upgrade London's underground rail system. Four years later, in 2007, two of the three contractors (Metronet BCV and Metronet SSL, known collectively as Metronet) went into administration when they could no longer meet their spending obligations.
The loss to the taxpayer arising from Metronet's poor financial control and inadequate corporate governance is some £170 million to £410 million. The Department's oversight and management of risk on the Metronet contracts were inadequate, especially given that it provided a £1 billion a year grant, was ultimately responsible for delivery and carried the majority of the risk of failure.
These failings ignored a clear warning from the National Audit Office in 2004 that they should avoid taking a 'hands-off' approach to oversight. The Department undermined its assumption that lenders would exercise strong oversight by assuring them that it would meet 95% of the outstanding debt in the event of failure. The public sector parties to the contract were unable to obtain the information they needed to oversee the contract effectively. A serious weakness in the arrangements was that the independent Public Private Partnerships (PPP) Arbiter was not invited to act at the earliest opportunity, rendering him largely ineffective
The Department must learn from its mistakes, have the right commercial skills in place and perform robust risk analysis when negotiating such contracts, to monitor the risks thereafter, and be prepared to intervene where necessary.
Find similar publications here: