Priorities for Investment in the Railways
HC 38-I, Third Report of Session 2009-10 – Volume I: Report, Together with Formal Minutes
Author:

House of Commons – Transport Committee

Publisher:

TSO (The Stationery Office)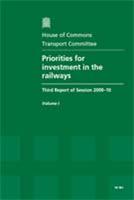 Add to Basket
The railways in Britain are currently experiencing historically high levels of investment. Network Rail, the monopoly owner and operator of Britain's fixed rail infrastructure, is investing about £35 billion in the railway network between 2009 and 2014.
In this inquiry, 'Priorities for Investment in the Railways (HC 38-I)', the Transport Committee assess the value of further investment to enhance Britain's railway network and - within the context of likely public spending reductions following the recession - to identify essential rail investment priorities for the future. Investment in rail enhancements can positively benefit the economy through:
reducing journey times;

providing access to employment;

contributing to the regeneration of local areas; and

in the short-term, providing much-needed construction jobs.
Failure to invest now to enhance the network, and to alleviate capacity constraints, will only damage the prosperity of the railways in the long term.
Find similar publications here: