Readiness and Recuperation of the Armed Forces: Looking Towards the Strategic Defence Review
HC 53, Fourth Report of Session – Report Together with Formal Minutes, Oral and Written Evidence
Author:

House of Commons – Defence Committee

Publisher:

TSO (The Stationery Office)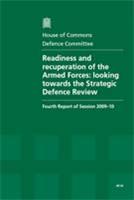 Add to Basket
In 'Readiness and Recuperation of the Armed Forces: Looking Towards the Strategic Defence Review (HC 53)' the Defence Committee states that the forthcoming Strategic Defence Review should take account of the current low readiness levels of the Armed Forces and the need for their effective recuperation.
The Armed Forces have been involved in operations in Iraq and Afghanistan for many years while maintaining key standing tasks such as the strategic nuclear deterrent and UK air defence. They have been deployed above the Defence Planning Assumptions, the level at which they are structured and funded, for seven years. Nevertheless, the Committee considers it unsatisfactory that readiness levels have been allowed to fall to the extent that they have and recommends that the Strategic Defence Review reviews the utility and content of the Defence Planning Assumptions and readiness targets.
Recuperation is the process by which force elements are returned to target levels of readiness. It involves all the underlying components:
manpower;

equipment;

training; and

logistics support.
The drawdown of troops from Iraq should provide the Ministry of Defence (MoD) with an opportunity to recuperate the Armed Forces and to reverse the fall in readiness. But there have also been pressures on personnel, with significant numbers of the Army and the Marines and those in key 'pinch point trades', such as medical personnel, being deployed more frequently than the MoD would wish - breaking harmony guidelines. If readiness is to be improved, then the Army must return to being deployed within harmony guidelines as soon as practicable.