The Role of Carbon Markets in Preventing Dangerous Climate Change
HC 290, Fourth Report of Session - Report, Together with Formal Minutes, Oral and Written Evidence
Author:

House of Commons - Environmental Audit Committee

Publisher:

TSO (The Stationery Office)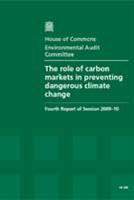 Add to Basket
Emissions trading is central to the Government's efforts to reduce greenhouse gas emissions in the UK. 'The Role of Carbon Markets in Preventing Dangerous Climate Change (HC 290)' examines the prospects for a global carbon market and the implications of this for further development of the European Union Emissions Trading System (EU ETS).
This publication reviews the impact and future prospects for the EU ETS in meeting the Government's twin objectives of reducing emissions at lowest cost and setting a carbon price that delivers investment in low-carbon technologies. The EU ETS has emissions caps set too high to force emitters to make the often costly investment decisions which would reduce emissions. The recession has only served to loosen what little constraint the cap provided. The carbon price has been too low to encourage the necessary investment in low-carbon processes and infrastructure. The cap mechanism therefore needs to be significantly tightened. This should be supported by cancelling 'new entrant reserve' allowances and auctioning as many allowances as possible, rather than giving them away for free (with the revenues possibly hypothecated to climate change measures).
The Government should explore the possible use of a carbon tax and should also encourage more use of allowance auctions with reserve prices, more use of incentives for low-carbon power generation and emissions performance standards for electricity generation. The emphasis should also be on harmonising the approach internationally, and on extending effective emissions trading systems. The Committee lists 19 conclusions and recommendations.
Find similar publications here: