The Home Office's Response to Terrorist Attacks
HC 117-I, Sixth Report of Session 2009-10 – Volume I: Report, Together with Formal Minutes
Author:

House of Commons – Home Affairs Committee

Publisher:

TSO (The Stationery Office)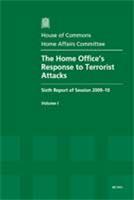 Add to Basket
The Home Affairs Committee believes that while the structures now in place may be suitable for combating the terrorist threat as currently constituted, it is not confident that government institutions have the desire to constantly adapt to meet ever-changing threats. A lack of political will has hindered the institution of valuable reforms such as regional policing counter-terrorism units and a degree of institutional inertia has set in to counter-terror operations in the UK.
'The Home Office's Response to Terrorist Attacks (HC 117-I)' calls for the merger of many different counter-terrorism committees into a single, formalised National Security Committee, chaired by the Home Secretary or Prime Minister and assisted by a National Security Advisor.
The Committee also says there must be changes in the counter terror measures put in place by Government: the control order regime, which has been plagued by questions about its legality since its inception, no longer provides an effective response and should be scrapped.
The Government should also introduce legislation to allow the admission of intercept evidence in court, which would make the identification, charging and conviction of terror suspects easier.

Find similar publications here:

Show all Subjects & Categories