Department for International Development: Aid to Malawi
HC 282, Eighth Report of Session 2009-10 – Report, Together with Formal Minutes, Oral and Written Evidence
Author:

House of Commons – Committee of Public Accounts

Publisher:

TSO (The Stationery Office)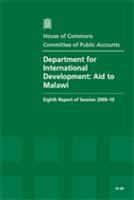 Add to Basket
Malawi is one of the poorest countries in the world. The Department for International Development provided £312 million to Malawi between 2003-04 and 2007-08, rising to a planned £80 million for 2010-11. The Department has contributed to progress in Malawi's development in areas such as reducing hunger and substantially improving the capacity in the health system while its programme complies with many internationally-agreed good practices.
However the Department needs better measures to assess its contribution, and evidence of the value for money of its spending in Malawi is hard to find. Much of the Department's programme is routed through the Government of Malawi's systems. The Department funds governance and scrutiny processes, but these are not yet fit for purpose. More needs to be done to strengthen governance in Malawi if it is to continue support through Government systems.
'Department for International Development: Aid to Malawi (HC 282)' found that to improve the programmes it funds the Department is limited by weaknesses in the information it has on their implementation and results and is not helped by a weak set of targets for its own performance. There are opportunities for the Department to drive improved value for money from the services it helps to fund in Malawi through quicker and more robust responding to emerging issues and results.
The Department has also faced the challenge of disbursing steeply rising amounts of aid with fewer staff to oversee it as a result of cuts in its administration budget set by the Treasury. There have been cuts in staff numbers in Malawi and the Committee questions whether current staffing is sufficient.
Find similar publications here: