Green Jobs and Skills
HC 159-I, Second Report of Session 2009-10, – Volume I: Report Together with Formal Minutes, Oral and Written Evidence
Author:

House of Commons – Environment Audit Committee

Publisher:

TSO (The Stationery Office)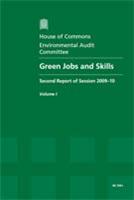 Add to Basket
The Government has missed a big opportunity to kick start a green industrial revolution with its £3 billion fiscal stimulus. Germany, the US, Japan and China have invested billions in their low-carbon industries. But only one sixth of the UK's Government's fiscal stimulus package was devoted to green industry.
Many of the policies needed to cut carbon emissions will provide good opportunities to increase employment and could give the UK a competitive advantage in the coming decades. The UK has the potential to take a leading global role in a number of low carbon sectors. Creating a strong home market in off-shore wind could ensure UK companies are well placed to exploit export opportunities to other EU countries - or promising markets such as the US and China. Increasing the speed and scale of the programme to insulate UK homes could also sustain employment and kick start a market estimated to be worth between £3.5-6.5 billion a year.
Low Carbon Industrial Strategy
Business needs confidence that financial incentives and regulation designed to promote low carbon industries will be maintained. Although it is recognised that the UK Government has made significant investment for delivery of its Low Carbon Industrial Strategy and its Low Carbon Transition Plan it is not sufficient to meet emissions targets or to provide the economic advantage needed. It is felt that the Low Carbon Industrial Strategy does not effectively address a transition across the whole economy.
Key Sectors
The Committee on Climate Change has identified key sectors in which energy savings must be made and the Government's strategy on green jobs must be directly linked to these sectoral targets and green industries developed to achieve these. The Committee also feels that, in particular, a 'quick win' street-by-street programme of energy saving measures for households that will boost employment and keep UK building firms in business should be developed as a priority. The market-based, demand-led approach to skills has not worked because employers are unable to effectively articulate their needs.
The Government's new skills strategy must prioritise the skills needed to drive the economy through the low-carbon transition. A body to lead the green skills agenda must be found and low-carbon skills need to be integrated through the whole skills delivery system to encourage behavioural change across the entire economy.
Find similar publications here: