Financial Management in the Foreign and Commonwealth Office
HC 164, Third Report of the Session 2009-2010 – Report Together with Formal Minutes, Oral and Written Evidence
Author:

House of Commons – Committee of Public Accounts

Publisher:

TSO (The Stationery Office)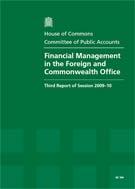 Add to Basket
Against a backdrop of historically weak financial management and significant under-spending, the Foreign and Commonwealth Office has made considerable progress over the past three years to improve the accuracy, reliability and timeliness of financial information.
Having recognised the need to take action, the Department set up its 'Five Star Finance' project which is due to completed in the summer of 2010. Of particular benefit has been the recruitment of a professionally qualified finance director and increasing the number of professionally qualified accountants within the finance function.
An important factor has been the need for better information on the costs of individual embassies and this has been strengthened. Further action though is still required to implement a workable and effective system of costing activity in all locations to enable it to make informed decisions about its operational priorities.
Given that over half of the Department's expenditure of some £2 billion is paid out in foreign currency the Department has suffered a significant reduction in purchasing power as a result of the weakening of the Sterling. The Department now forward purchases US dollars, euros and yen but with input from the Treasury it also needs to work with other Departments to identify the most effective way to manage exchange rate risk for the government as a whole.
The Department confirmed that its aim is to maximise the benefits from each of its embassies in pursuit of British trade and foreign policy interests and that it has no plans to sell-off any of its prestigious buildings around the world.
Find similar publications here: