The Detention of Children in the Immigration System
HC 73, First Report of the Session 2009-10 – Report, Together with Formal Minutes.
Author:

House of Commons – Home Affairs Committee

Publisher:

TSO (The Stationery Office)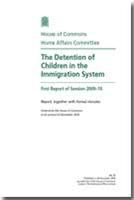 Add to Basket
'The Detention of Children in the Immigration System (HC 73)' was prompted by figures that showed nearly 1,000 children a year are detained in UKBA immigration detention centres. On average children spend over a fortnight in detention (15.58 days) but detention for up to 61 days is not uncommon. Figures also revealed that it costs £130 a day to keep a person in detention; in the most extreme situations, detaining a family of four for between four and eight weeks costs over £20,000.
The Committee recommends that after a child has spent an initial fortnight in detention and every seven days thereafter, UKBA notifies the Home Office, and the Children's Commissioner as to why detention for this amount of time is justified and why the continued detention of this child is necessary. UKBA should consider the use of electronic tags, reporting requirements and residence restrictions while reserving the right to detain as an alternative to indeterminate detention pending final legal decisions.
The principle should be that the detention of young children must only ever be used as a last resort and the length of time spent in detention should be reduced.While the legal system as a whole should be streamlined, the legal processes must also become fairer; quicker; and more transparent. This should reduce the need to detain small children and possibly reduce the demand for multiple appeals in the first place.

Find similar publications here:

Show all Subjects & Categories