The National Offender Management Information System
HC 510, Fortieth Report of Session 2008-09 – Report, Together with Formal Minutes, Oral and Written Evidence
Author:

House of Commons - Public Accounts Committee

Publisher:

TSO (The Stationery Office)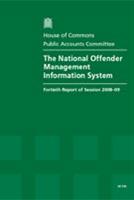 Add to Basket
The C-NOMIS project, intended to deliver a single offender management IT system across prison and probation services, was initially envisaged by the Home Office for delivery in January 2008 for £234 million. It was stopped in August 2007 because costs had trebled. The NOMIS programme was revised and scaled back to three offender databases for £513 million with delivery by 2011. The original concept was ambitious but still technically feasible.
Problems at every level, however, led to an out of control programme which eventually the National Offender Management Service (NOMS) could no longer afford. NOMS significantly underestimated the technical complexity of the project and the need to standardise ways of working to avoid excessive customisation. There was also poor planning, poor financial monitoring, inadequate supplier management and too little control over changes.
Costs and progress were not monitored or reported for the first three years after the inception of C-NOMIS, in part because the first Senior Responsible Owner overseeing the project did not have relevant project experience or training. The Project Board, the NOMS Board, the Home Office senior management and Ministers were all unaware of the true cost and progress before May 2007.
NOMS cannot say in detail what £161 million to October 2007 was spent on. C-NOMIS is a singular example of comprehensively poor project management. Roll out of the re-scoped programme has only just begun and there are still significant challenges yet to address.

Find similar publications here:

Show all Subjects & Categories