The Warm Front Scheme
HC 350, Thirty-ninth Report of Session 2008-09 - Report, Together with Formal Minutes, Oral and Written Evidence
Author:

House of Commons - Public Accounts Committee

Publisher:

TSO (The Stationery Office)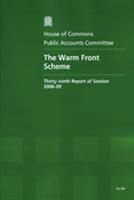 Add to Basket
The Warm Front Scheme provides assistance to eligible households with the installation of heating and insulation measures that improve household energy efficiency and reduce fuel poverty. Until the formation of the Department of Energy and Climate Change in 2008, the Scheme was the responsibility of the Department for Environment, Food and Rural Affairs.
Between June 2005 and March 2008, the Scheme assisted over 635,000 households at a cost of £852 million and, by 2010-11, cumulative Scheme funding is expected to reach £1,811 million.
In 2007, over three million households were estimated to be in fuel poverty and increases in domestic gas and electricity prices may have added a further 1.5 million households. A household is defined as 'fuel poor' when it needs to spend more than 10% of its net income on fuel to maintain an adequate heating regime.
The Committee's conclusions and recommendations include:
The Scheme continues to be poorly targeted despite some changes to the eligibility criteria. Nearly 75% of households entitled to a grant are unlikely to be in fuel poverty, whilst the Scheme is only available to 35% of all those households likely to be in fuel poverty, partly because the eligibility criteria include receipt of non-means tested benefits.

Some £15.4 million was spent on providing energy efficient light bulbs, tank jackets and draught proofing, which have limited impact on overall energy efficiency and are also unlikely on their own to lift households out of fuel poverty.

The maximum grant available under the Scheme did not change between July 2005 and April 2009. Over the same period, labour costs for gas and oil central heating rose by 8.9% and costs for other services by 7.3%, with more applicants needing to contribute to the cost of the work being done. The Scheme may be failing the poorest and most vulnerable households as they are least likely to be able to make a contribution.
The February 2009 National Audit Office report on this topic (HC 126, ISBN 9780102954531) is available to buy separately, please see below.

Find similar publications here:

Show all Subjects & Categories