HMRC: The Control and Facilitation of Imports
HC 336, Thirty-eighth Report of Session 2008-09 - Report, Together with Formal Minutes, Oral and Written Evidence
Author:

House of Commons - Public Accounts Committee

Publisher:

TSO (The Stationery Office)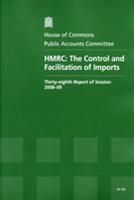 Add to Basket
In 2007-08, HM Revenue & Customs (the Department) processed some 22 million import declarations from 16,000 traders, accounting for over £186 billion of goods imported from outside the European Union (EU). It collected £2.5 billion in Customs Duty and £19.3 billion in Import VAT.
Some 99% of declarations are submitted electronically and the Department clears around 90% of imports without further check beyond its initial system scrutiny. The Department provides services to help traders navigate the extremely complex classifications, rules and procedures (set by the EU) but traders find it difficult to comply and simple errors can lead to demands for large back duty payments.
The Department controls imports by undertaking documentary checks, physical checks at the frontier (now done by the UK Border Agency), and trader audits. Most effort is directed to documentary checks and trader audits, yet the number of these has fallen significantly even though the number of consignments has increased.
The rate of physical examinations of goods at the frontier was well below the EU average of 9%. The number of trader audits halved between 2005-06 and 2007-08, leading to reduced revenue from this work, while levels of non-compliance increased.
The Department's management of customs work and risk assessment is spread across eight directorates and, since April 2008, the UK Border Agency. Poor management information has hindered effective oversight of performance and risk management. In 2007, the Department established the Customs Strategy Delivery Group to improve its strategic and operational management of customs activities.
The November 2008 National Audit Office report on this topic (HC 942, ISBN 9780102954272) is available to buy separately, please see below.

Find similar publications here:

Show all Subjects & Categories