Planning for Homes: Speeding up Planning Applications for Major Housing Developments in England
HC 236, Thirty-third Report of Session 2008-09 - Report, Together with Formal Minutes, Oral and Written Evidence
Author:

House of Commons - Public Accounts Committee

Publisher:

TSO (The Stationery Office)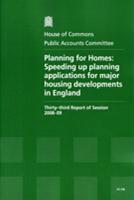 Add to Basket
Housing developments require the approval of planning applications by local planning authorities (Authorities) before they can proceed. Communities and Local Government (CLG) has implemented a number of measures in recent years to improve the performance of the development management stage of the planning process, in which applications are considered by Authorities, and to boost planning capacity.
The measures include the setting of national targets for the speed of Authority decision-making, and the allocation of £68 million a year in Planning Delivery Grant (the Grant) to Authorities as a reward for meeting targets. The Grant, together with the setting of a 13-week target for decisions, has provided Authorities with an incentive to determine applications more quickly.
Between 2002-03 and 2007-08, the percentage of major residential planning applications decided within 13 weeks almost doubled to 67%.
CLG's measures to improve the application process have met with mixed success:
CLG has encouraged Authorities to hold pre-application discussions with developers, but there is a lack of clarity across Authorities about the purpose of these discussions.

Some Authorities have not deployed sufficiently senior and experienced staff in the discussions and Authorities have also taken different approaches to charging.

Authorities' monitoring of developers' discharge of the conditions attached to planning permissions has been given a low priority, partly because of the focus on meeting the 13-week decision target.

Authorities have spent about 95% of Planning Delivery Grant on their planning functions, although the extent to which it has resulted in extra expenditure on planning is unclear.
The December 2008 National Audit Office report on this topic (HC 15, ISBN 9780102954470) is available to buy separately, please see below.

Find similar publications here:

Show all Subjects & Categories