Maintaining the Occupied Royal Palaces
HC 201, Twenty-fourth Report of Session 2008-09 - Report, Together with Formal Minutes, Oral and Written Evidence
Author:

House of Commons - Public Accounts Committee

Publisher:

TSO (The Stationery Office)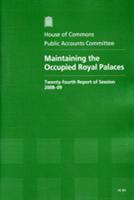 Add to Basket
The Occupied Royal Palaces Estate (the Estate), which includes Buckingham Palace and Windsor Castle, is held in trust for the nation and used to support the official duties of the Sovereign. The Department for Culture, Media and Sport (the Department) is accountable to Parliament for the upkeep of the Estate but has delegated day-to-day responsibility to the Royal Household (the Household).
The annual grant to maintain and run the Palaces has remained at around £15 million since 2000-01 (a 19% real terms reduction). An increase in running costs over the same period means there has been a 27% fall in maintenance expenditure to £11.1 million in 2007-08.
The Department has set the Household an objective that focuses on the condition of the Estate. However, none of the key indicators measures performance against it and the Household does not have a comprehensive analysis of the condition of the Estate.
In addition, a £32 million maintenance backlog has built up and important work has been deferred. The Department and the Household have yet to agree criteria for assessing the backlog and develop a plan for managing it. In addition, the Household does not have a strategy for managing its Estate.
The Royal Collection Trust manages visitor admission to the Palaces and receives the income generated, which in 2007-08 totalled £28 million. Buckingham Palace is open for 63 days per year because of the number of official engagements and the costs involved. Other buildings - such as the White House and Houses of Parliament - manage to open for most of the year, despite similar obligations and security concerns.
The December 2008 National Audit Office report (ISBN 9780102954463) on this topic is available to buy separately, please see below.

Find similar publications here:

Show all Subjects & Categories