Financial Management in the NHS: Report on the NHS Summarised Accounts 2007-08
HC 225, Twenty-second Report of Session 2008-09 - Report, Together with Formal Minutes, Oral and Written Evidence
Author:

House of Commons - Public Accounts Committee

Publisher:

TSO (The Stationery Office)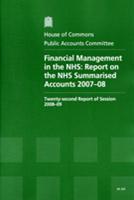 Add to Basket
This report examines the financial performance of the National Health Service (NHS) and NHS Foundation Trusts. The Department of Health (the Department) and the NHS achieved a surplus of £1,674 million in 2007-08. The surplus was significantly higher than the original forecast of £916 million and more than three times that recorded in 2006-07 (£515 million).
The Committee's findings and recommendations include:
In 2006-07, the surplus was concentrated in the Strategic Health Authorities, which are administrative bodies, with the Primary Care Trust and NHS Trust sectors remaining in deficit. All sectors are now in surplus and the quality of financial management at individual NHS organisations improved during 2007-08.

The surplus represents funding that was made available but was not used. There is a real risk that patients lose out because the NHS is not spending its allocated funding on treating them. The Department has committed itself to making the surplus available to the NHS for spending in future years.

Some long-standing financial problems affect a minority of trusts, which remain in deficit, and some regional variations in financial performance persist.

During a period of economic uncertainty, when resources are severely stretched, it is more important than ever that the NHS can demonstrate value for money and continuous improvements in productivity.

The Department intends that the NHS should generate £15 billion in efficiency savings over the next three years.
Going forward the Department and NHS face a number of challenges, including changes to the financial reporting framework and timetable, and further system reforms under which a quality element will be introduced into how NHS organisations are funded. The surplus generated and better financial management should, if maintained, help deal with the financial implications of meeting these challenges.
The NHS Summarised Accounts for 2007-08 (ISBN 9780103288079) and the National Audit Office report on the Summarised Accounts (ISBN 9780102954418) are available to buy separately, please see below.

Find similar publications here:

Show all Subjects & Categories