Engineering: Turning Ideas into Reality
HC 50-I, Fourth Report of Session 2008-09 - Volume I: Report, Together with Formal Minutes
Author:

House of Commons - Innovation, Universities, Science and Skills Committee

Publisher:

TSO (The Stationery Office)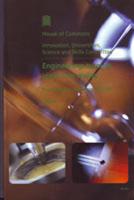 Add to Basket
Engineering is a critical component of the national economy and of society in general. The Committee is convinced that the strength of the UK's engineering base means that the UK can play a major part in solving global problems such as climate change, food and water supply, energy security, and economic instability.
Engineering involves skills, higher education and innovation and encompasses research and development, design, production, distribution and services. The Committee takes a case study approach in this report, 'Engineering: Turning Ideas into Reality (HC 50-I)', exploring key themes through the lenses of nuclear engineering, plastic electronics engineering, geo-engineering, and engineering in Government.
The Committee notes concerns about the UK's capacity to deliver a new generation of nuclear power stations, and there are significant skills shortages. The plastic electronics case study highlighted the potential opportunity afforded to the UK through the support of emerging, innovative industries, but we are likely to miss out on the economic return associated with translating the findings of research into commercialised technologies.
The global nature of many engineering challenges was highlighted during the discussion of geo-engineering research and it is essential that the views of the science, engineering and social science communities be seen as complementary sources of expertise in policy-making.
Engineering in government demonstrated that engineering advice and scientific advice offer different things and that this should be recognised in the policy process. Government does not have sufficient in-house engineering expertise and engineering advice is frequently not sought early enough during policy formulation (for example on eco-towns, renewable energy and large IT projects). There should be a greater level of engineering expertise in the generalist civil service as well as more engineering policy specialists.
The accompanying 'Volume II: Oral and Written Evidence (HC 50-II)' (ISBN 9780215529336) and 'Volume III: Oral and Written Evidence (HC 50-III)' (ISBN 9780215529343) are available to buy separately, please see below.
Find similar publications here: