Greener Homes for the Future? An Environmental Analysis of the Government's House-building Plans
HC 566, Twelfth Report of Session 2007-08 - Report, Together with Formal Minutes, Oral and Written Evidence
Author:

House of Commons - Environmental Audit Committee

Publisher:

TSO (The Stationery Office)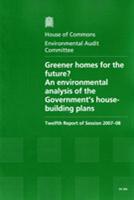 Add to Basket
This report from the Environment Audit Committee examines three overarching issues: the impact of the growth of house-building targets; what sort of homes should be built; and where these homes should be built.
The Committee has set out a number of conclusions and recommendations, including:
The Committee on Climate Change should assess the impact of the Government's new house-building targets for three million new homes by 2020 on the UK's 2020 carbon reduction target.

In light of the latest economic projections, fundamental changes in the mortgage market, and falling house prices, the Government should review the assumptions on which its target is based.

And the target for 2 million new homes to be built before the zero carbon target comes into effect in 2016, with a further 1 million to be built afterwards, should change to increase significantly the proportion built afterwards.

Zero carbon homes must source their heat and power from renewable sources. Ideally these will come from on-site renewable power generation; where this is impractical, off-site renewables should be built or funded.

The Government should ensure that an excess of land is not made available to developers, something that is already leading to greenfield sites being developed in preference to brownfield sites.

The Government should urgently reintroduce a clear sequential test in favour of brownfield development into planning policy.

Greater emphasis ought to be placed on energy efficiency and sustainability within the building control regime that inspects new housing.

The Government should consider introducing higher penalties for developers who fail to meet energy efficiency standards.

The same environmental tests used for eco-towns should be applied to all major housing developments from 2016.

The Government should re-examine eco-town proposals, to ensure they have good public transport links, and are located close to commercial centres and employment opportunities.
Find similar publications here: