Making Government Operations More Sustainable: A Progress Report
HC 529, Seventh Report of Session 2007-08 – Report, Together with Formal Minutes, Oral and Written Evidence
Author:

House of Commons – Environmental Audit Committee

Publisher:

TSO (The Stationery Office)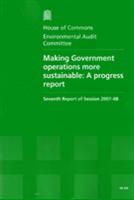 Add to Basket
Greening Government operations is important in its own right because of the size and range of their environmental impacts. Each year central Government offices produce approximately 2.3 million tonnes of CO2 emissions (around 0.4% of the UK total) and 309,000 tonnes of waste. Central Government spends £60 billion on goods and services each year and through sustainable procurement it could accelerate the take-up of environmentally friendly products.
This report examines progress relating to:
carbon emissions;

renewable energy;

carbon neutrality;

energy consumption;

Government response to the Sustainable Development Commission (SDC); and

the role of the Sustainable Development Commission.
The Committee finds that the record is poor on carbon emissions. Excellent progress has been made on increasing the use of green electricity but progress on generating its own electricity from on-site or district renewables has been very disappointing. The target of making the Government Estate carbon neutral by 2012 will depend very heavily on buying offsets.
It is important the Government does as much as possible to reduce its own emissions. The newly announced 'Greening Government' IT programme is encouraging, given that increased use of IT would appear to be the biggest single factor in the upward trend in emissions from civil departments. The Government has, encouragingly, announced significant reforms in its response to the SDC's report. The Commission is having a significant influence in galvanising Government to improve its structures.
Find similar publications here: