Ticketing and Concessionary Travel on Public Transport
HC 84, Fifth Report of Session 2007-08 – Report, Together with Formal Minutes, Oral and Written Evidence
Author:

House of Commons – Transport Committee

Publisher:

TSO (The Stationery Office)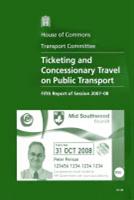 Add to Basket
'Ticketing and Concessionary Travel on Public Transport (HC 84)' examines the aim of producing an integrated ticketing system across England, with the introduction of smartcard concessionary travel passes. The report inquires into: the extent to which integrated ticketing on public transport has been achieved for all users; the issues regarding smartcards; arrangements for revenue protection (stopping fare-evasion) which will be affected by new forms of ticket; and the impact of concessionary travel in England which is costing £1 billion per annum.
The Committee has set out a number of recommendations, including:
The Government, in terms of promoting integrated bus ticketing, has achieved too little of practical value.

Traffic Commissioners should be given powers to arbitrate where bus companies and local transport authorities disagree.

Coach travel should be given greater consideration in future statements of public transport policy.

It is imperative that the full range of tickets, including multi-modal options, be available at all main outlets so that the Government's aim of fare simplification can be better achieved.

The Government needs to ensure suitable guidelines on differential pricing is included in decisions on rail fares and rail franchises, with particular reference to smartcards.

The Government needs to articulate a clearer strategy for the development of integrated ticketing in general and smartcards in particular.

The Government should move towards a unified system of public transport revenue protection.

The Department of Transport should commission an evaluation of the benefits of the national scheme for free local bus travel and that national concessionary travel is properly funded.
Find similar publications here: