A Reconsideration Of Tax Credit Cuts
HC 548, Third Report of Session 2015-16 - Report, Together with Formal Minutes Relating to the Report
Author:

House of Commons - Work and Pensions Committee

Publisher:

TSO (The Stationery Office)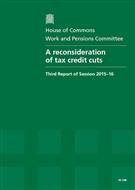 Add to Basket
The Summer Budget 2015 (see below) proposed cuts to in-work tax credits of £4.4 billion in 2016-17. The report 'A Reconsideration Of Tax Credit Cuts (HC 548)' examines the feasibility of these cuts in detail, and considers the various mitigation options open to the Chancellor in rethinking the measures.
There is now general agreement that it would be right for the Chancellor to rethink reforms that went too far and too fast and may have most impact on those in work and striving to succeed. Even when combined with the welcome increase in the income tax personal allowance and the National Living Wage, the cuts in the Summer Budget would cost the average affected family £1,100, a reduction in income that many cannot afford.
Increases in the income tax personal allowance and the National Living Wage should not be confused with compensation for tax credit cuts. The benefits to those who are helped are generally lower than the cuts, especially in 2016-17.
The Chancellor should resist the temptation to make cute to Universal Credit, which would either shift the burden to different low income families or undermine the objective of making work pay. The only efficient and effective immediate means of mitigating the tax credit cuts lie within the tax credit system.
Analysis in compiling the report has been hampered by the inaccessibility of data. The Government should do more to make data available, not least because it makes for better policy.
The Committee recommends that, if these major changes cannot be satisfactorily mitigated now, it would be better to pause any major reforms until 2017-18. This would enable a necessary and ambitious debate about the future of working age benefits, and their position in a sustainable welfare system.
Find similar publications here: