Legacy Report
HC 1130, Ninth Report of Session 2014-15 - Report, Together with Formal Minutes Relating to the Report
Author:

House of Commons - Scottish Affairs Committee

Publisher:

TSO (The Stationery Office)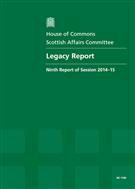 Add to Basket
In the report 'Legacy Report (HC 1130)' the Scottish Affairs Committee sets out the key elements of its work over the 2010-15 Parliament.
The Committee believes that it is crucial that select committees follow up their work and do not simply see the publication of a report as the end of the process of scrutiny. Scrutiny should not end with the Dissolution of Parliament.
The Scottish Government was clear that the 2014 referendum on independence would be a once-in-a- generation event, but that does not mean that the relationship between Scotland and the rest of the United Kingdom will remain unchanged.
The recommendations of the Smith Agreement will be implemented during the course of the next Parliament. The major package of legislation and the revised fiscal framework that will accompany it will require careful and detailed scrutiny, as will any proposals go further that the Smith Commission envisaged.
Find similar publications here: