Land Reform in Scotland: Final Report
HC 274, Eighth Report of Session 2014-15 - Report, Together with Formal Minutes Relating to the Report
Author:

House of Commons - Scottish Affairs Committee

Publisher:

TSO (The Stationery Office)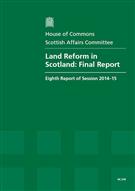 Add to Basket
Land reform is an intensely political area of public policy which has previously been neglected for too long; according to the Committee report 'Land Reform in Scotland: Final Report (HC 274)', by removing land-based barriers to the sustainable development of communities, particularly in rural areas, land reform can have a profound social impact.
Any land reform programme should ensure that effective land use and management are encouraged. The Committee is therefore pleased that the Scottish Government is taking forward work on land reform in line with the findings of their interim report.
The Scottish Government's consultation on the Future of Land Reform in Scotland paper closed on 12 February 2015 and results are awaited with interest. Concentrated land ownership has a negative impact on attempts to create a more socially just Scotland.
Accordingly, the long term impact of the Scottish's Government's reforms and the new Common Agricultural Payments scheme, along with the effects of Community Land Fund on land ownership and management should be a matter of great importance to the next Scottish Affairs Committee.
Find similar publications here: