Decision-Making In Defence Policy
HC 682, Eleventh Report of Session 2014-15 - Report, Together with Formal Minutes Relating to the Report
Author:

House of Commons - Defence Committee

Publisher:

TSO (The Stationery Office)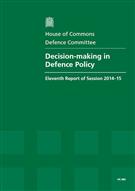 Add to Basket
The British military has an unrivalled global reputation and the nation is justifiably proud of the courage, skills, and dedication of its personnel; however, the report 'Decision-Making In Defence Policy (HC 682)' concludes that our service personnel have not always been well served by the decisions made by politicians and military leaders.
Poor decision-making can cost lives and vast sums of public money. It is absolutely imperative therefore that the Ministry of Defence gets the right information, the right structures, the right processes, and the right people to make the best decisions. The Committee pay tribute to the senior officers, civil servants, and politicians, who are forced to operate in an increasingly complex strategic environment.
The Levene Reforms and the National Security Council have brought clearer accountability to decision-making, and reinforced civilian control, but they have not addressed historical gaps in information, training, openness to criticism, and strategic thought.