Strategic River Crossings
HC 714, Tenth Report Session 2014-15 - Report, Together with Formal Minutes Relating to the Report
Author:

House of Commons - Transport Committee

Publisher:

TSO (The Stationery Office)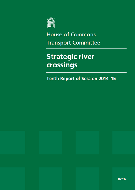 Add to Basket
In the report 'Strategic River Crossings (HC 714)' the Committee examine a number of case studies for river crossing developments, including the Mersey Gateway Project, the Tyne Tunnels and proposals for new crossings in East London and the Lower Thames.
The Transport Committee says a short-term approach to planning key infrastructure projects has left many estuary areas in the UK with inadequate transport capacity, and poor connectivity:
"A lack of cross-river capacity limits local and national economic growth so we call upon the Government to take a far more long-term approach when planning new bridges and tunnels. The Government must rectify that weakness as soon as possible. Important infrastructure projects, such as the Mersey Gateway Bridge, have the potential to generate economic growth by linking workers to jobs and consumers to retailers."
The Committee welcomes proposals to build a package of new river crossings in east London and believes these developments are long overdue.
Find similar publications here: