Child Sexual Exploitation In Rotherham: Ofsted And Further Government Issues
HC 1114, Ninth Report Session 2014-15 - Report, Together with Formal Minutes Relating to the Report
Author:

House of Commons - Communities and Local Government Committee

Publisher:

TSO (The Stationery Office)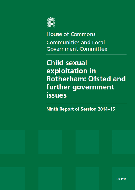 Add to Basket
The report 'Child Sexual Exploitation In Rotherham: Ofsted And Further Government Issues (HC 1114)' follows up the November 2014 report on child sexual exploitation in Rotherham, and covers two matters: the role of Ofsted and Louise Casey's inspection report on Rotherham.
It is clear that the inspection arrangements that Ofsted had in place from 2007 - when it became responsible for inspecting children's services at Rotherham, failed to detect either the evidence or the knowledge within the council, of large-scale child sexual exploitation. The structured inspection method used at that time to inspect local authorities' children's services was designed by Ofsted and did not focus on child sexual exploitation. The result was a lack of intelligence and understanding in Ofsted's handling of Rotherham.
Child sexual exploitation was missed, as was the superficiality of Rotherham's response to inspection findings and its dysfunction.
The Committee found Louise Casey's report on her inspection of Rotherham to be penetrating and instructive. It not only confirmed the dreadful findings in the Jay Report - but what was worse, revealed that Rotherham Council was in denial about child sexual exploitation
Find similar publications here: