Motoring Of The Future
HC 429, Eighth Report of Session 2014-15 - Report, Together with Formal Minutes Relating to the Report
Author:

House of Commons - Transport Committee

Publisher:

TSO (The Stationery Office)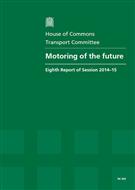 Add to Basket
Motoring is being transformed by new materials, new fuels and information technology. The report 'Motoring Of The Future (HC 429) concludes that the Government must act if people and businesses in the UK are to obtain the full benefit of the ongoing automotive revolution.
The Committee finds that the Department for Transport (DFT) has yet to set out a comprehensive strategy to link the introduction of new automotive technology to the achievement of its policy goals. It should develop a comprehensive vision to shape motoring of the future in partnership with other Government Departments and agencies.
This strategy needs to set out a co-ordinated set of actions to:
(i) reduce or eliminate fatalities and serious injuries on the roads;
(ii) cut emissions from road transport;
(iii) increase road capacity;
(iv) facilitate social inclusion and accessibility of road transport; and
(v) support economic growth.
Find similar publications here: