Universal Credit: Progress Update
HC 810, Forty-Second Report of session 2014-15 - Report, Together with Formal Minutes Relating to the Report
Author:

House of Commons - Committee of Public Accounts

Publisher:

TSO (The Stationery Office)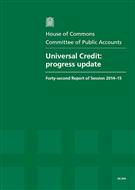 Add to Basket
The report 'Universal Credit: Progress Update (HC 810)' examines the Department for Work and Pensions' (DWP) progress in implementing Universal Credit.
£700 million has been spent on Universal Credit since the programme began in 2010. Very little progress has been achieved on the front line with fewer than 18,000 people claiming it by October 2014, although the Department expects this to rise significantly by February 2016.
The DWP reset the programme in early 2013 following a Major Projects Authority review which expressed serious concerns about the lack of detailed plans, and it has now put Universal Credit on a sounder footing.
HM Treasury has approved the strategic outline business case, the first of three stages in developing a full business case for the programme. The DWP has adopted a twin track approach which it expects will bring forward the anticipated benefits of the programme compared to waiting until the long term systems are ready and which should allow the Department to implement a contingency plan at later date.
The twin track approach is complicated, as the DWP is running two separate systems in parallel. In the short term, the Department is using IT systems developed before the reset to accept simple claims in an increasing number of locations. At the same time, it is developing and testing a new digital service, which it intends will deliver Universal Credit to all types of claimant in the long term.
Since the reset, the Department has already fallen a further six months behind schedule for developing the digital service.
Find similar publications here: