Future Of The BBC
HC 315, Fourth Report of Session 2014-15 - Report Together with Formal Minutes Relating to the Report
Author:

House of Commons - Culture, Media and Sport Committee

Publisher:

TSO (The Stationery Office)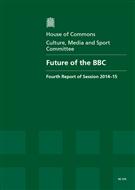 Add to Basket
The inquiry 'Future Of The BBC (HC 315)' is the first step in a wider process of examining the role and position of the British Broadcasting Corporation (BBC), as well as the way it has been managed, governed and held accountable, before the current Charter expires at the end of 2016.
Over the last few years the BBC has been beset by mistakes of its own making at times, but despite this many people judge the broadcaster first and foremost on the quality of its content - on its programmes and journalism, and on the value for money they consider it delivers in terms of societal and cultural contributions.
The BBC makes a valuable contribution to many people's lives as the nation's broadcaster reaching 96% of the population on a weekly basis, and many millions more overseas through the provision of its international services. Its continuing importance as a provider of impartial news and its capacity to bring the country together where its output remains universally available, are aspects which many people continue to associate with the Corporation.
However, given a public intervention of close to £4 billion is made in paying for the BBC's activities, key questions arise in determining what purposes justify an intervention of this magnitude, and what scope and scale are appropriate for the Corporation as a publicly-funded broadcaster.
The BBC is a powerful player in a world where content is available in much greater volumes from a multitude of sources, and consumed in more ways than ever before. If unchecked there is a danger that the Corporation will, by accident or design, crowd out smaller rivals and inhibit their ability to grow.
Find similar publications here: