Life Lessons: PHSE And SRE In Schools
HC 145, Fifth Report of Session 2014-15 - Report, Together with Formal Minutes Relating to the Report
Author:

House of Commons - Education Committee

Publisher:

TSO (The Stationery Office)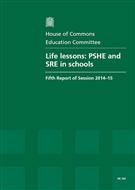 Add to Basket
'Life Lessons: PHSE And SRE In Schools (HC 145)' investigates the actions taken by the Government to improve Personal, Social and Health Education (PSHE) following Ofsted's finding in 2013 that the subject required improvement in 40% of schools.
The report concludes that the Government's current strategy for improving PSHE is weak, with a mismatch between the priority that ministers claim they give PSHE and the steps that have been taken to improve the quality of teaching in the subject.
There is an overwhelming demand for statutory Sex and Relationships Education (SRE), from teachers, parents and young people themselves, as statutory status will help ensure investment in training for teachers to improve its provision.
The report makes several recommendations, including:
all schools should be required to run a regular consultation with parents on the school's SRE provision;

the parental right to withdraw their child from elements of SRE should be retained;

the Government should formally endorse and issue the SRE guidance produced by Brook, the Sex Education Forum and the PSHE Association and promote this more actively to schools and governors;

the funding of continuous professional development for PSHE teachers and school nurses should be reinstated;

Ofsted should resume its regular subject surveys of PSHE provision; and

SRE should be renamed Relationships and Sex Education - RSE - to emphasise the relationships element of the subject.
SRE forms an important part of any school's efforts to safeguard young people from abuse, and is particularly needed to protect the most vulnerable children. PSHE builds character and resilience, and will help young people to live happy and healthy lives.
Find similar publications here: