The Work Programme
HC 457, Twenty-first Report of Session 2014-15 - Report, Together with Formal Minutes Relating to the Report
Author:

House of Commons - Public Accounts Committee

Publisher:

TSO (The Stationery Office)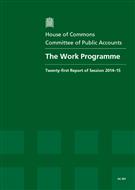 Add to Basket
The Work Programme aims to increase employment, reduce the time that people spend on benefit, and improve support for the hardest-to-help (those participants whose barriers to employment are relatively greater than others on the Programme); the report 'The Work Programme (HC 457)' examines the progress of the scheme and makes recommendations based on evidence presented by the Comptroller and Auditor General.
The Work Programme assigns people to one of nine payment groups depending on characteristics such as age and the benefit they are claiming. The Department for Work and Pensions (DWP) who run the Programme, pays prime contractors to provide support to people to get them into long-term employment using a payment-by-results approach.
The amount the DWP pays a prime contractor depends on its success in getting people into sustained work and the payment group of the individual. The DWP has 40 contracts with 18 prime contractors. Either two or three prime contractors operate in 18 different geographic areas across England, Scotland, and Wales. Prime contractors may subcontract some or all of the support they provide.
The Department will stop referring people to the Work Programme in March 2016, although payments to prime contractors will continue until March 2020. Between June 2011 and March 2016, the Department expects to refer 2.1 million people to the Work Programme, and forecasts total payments to prime contractors of £2.8 billion.
Recommendations from the Comptroller and Auditor General's report include measures to:
ensure sufficient time to develop a robust performance framework;

improve the setting and monitoring of minimum service standards;

eliminate spending on invalid sustainment payments;

improve performance management measures; and

develop a clear approach to making any future termination decisions.
Find similar publications here: