The Centre Of Government
HC 107, Nineteenth Report of Session 2014-15 - Report, Together with the Formal Minutes Relating to the Report
Author:

House of Commons - Committee of Public Accounts

Publisher:

TSO (The Stationery Office)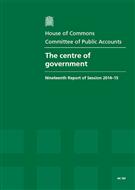 Add to Basket
The report 'The Centre Of Government (HC 107)' examines the performance of the Cabinet Office, HM Treasury HMT and the Prime Minister's Office (Number 10) as an effective centre of government.
A strong and effective centre of government is vital for the effective operation of government as a whole and for ensuring a focus on improved value for money for the taxpayer. However, there is a lack of clarity about the centre's precise role, particularly the respective responsibilities of the Cabinet Office, HMT and Number 10, and how they work together as a coherent centre.
The centre sometimes intervenes to address issues with high-priority government programmes, but has too often failed to do so effectively or at an early enough stage. In part, this is because the centre does not have a joined up single view of strategic risks across government, meaning it is often reactive in its response rather than able to anticipate potentially serious problems.
There are gaps in key skills at the centre and across departments, such as financial management capability and contracting expertise, which are compounded because government repeatedly fails to learn lessons and share good practice from past experience.
The Government has announced that the roles of Cabinet Secretary and Head of the Civil Service will be combined, and there will be a new Chief Executive post at the centre of government. Implementing these changes may provide an opportunity to make progress on the role of the centre.
Find similar publications here: