Child Sexual Exploitation And The Response To Localised Grooming: Follow-Up
HC 203. Sixth Report of Session 2014-15 - Report, Together with Formal Minutes Relating to the Report
Author:

House of Commons - Home Affairs Committee

Publisher:

TSO (The Stationery Office)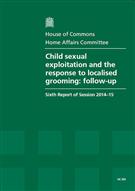 Add to Basket
'Child Sexual Exploitation And The Response To Localised Grooming: Follow-Up (HC 203)' is a follow-up to the Home Affairs Committee's second report of session 2013-14 (see below). The second report revealed results of an inquiry into children being treated in an appalling way not just by their abusers but, because of catastrophic failures by the agencies that society has appointed to protect them.
Children's services must be dramatically improved to prevent a similar situation from happening again. That evidence of child sexual exploitation in Rotherham was ignored by both Rotherham Council and South Yorkshire Police was shocking.
A number of individuals attempted to bring these crimes to light, only to face obstacles from the Council and Police which in some cases questioned their credibility and the veracity of their claims. If the Council and Police had taken these warnings seriously, the abusers could have been brought to justice more quickly and some of the later victims could have been spared their ordeal.
The report includes a draft Bill which suggests mechanisms for removing Police and Crime Commissioners (PCC) from their post, as there is no mechanism at all to suspend or remove a PCC for behaviour which falls short of criminal.
The proliferation of revelations about files which can no longer be located gives rise to public suspicion of a deliberate cover-up. The only way to address these concerns is with a full, transparent and urgent investigation
Find similar publications here: