Employment And Support Allowance And Work Capability Assessments
HC 302, First Report of Session 2014-15 - Report, Together with Formal Minutes Relating to the Report
Author:

House of Commons - Work and Pensions Committee

Publisher:

TSO (The Stationery Office)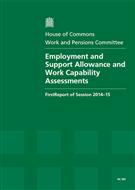 Add to Basket
The report 'Employment And Support Allowance And Work Capability Assessments (HC 302)' calls on the Government to undertake a fundamental redesign of the Employment and Support Allowance (ESA) end to end process.
The redesign should ensure that the main purpose of the benefit, helping claimants with health conditions and disabilities to move into employment where this is possible for them, is achieved. This will take some time, but the redesign should be completed before the new multi-provider contract is tendered, which is expected to be in 2018. In the meantime, the Committee recommends a number of changes which should be made now, to help ensure that claimants receive an improved service, and that the outcomes for claimants are more appropriate.
ESA is not achieving its purpose of helping people who could work in the short to medium term to move back into employment. One of the reasons for this is that the outcomes of the ESA claims process are too simplistic. Claimants can be found "fit for work" and are then ineligible to claim ESA. Claimants found to have such limited functionality that that they cannot undertake any work-related activity are placed in the Support Group, where they are subject to no work-related conditionality.
This leaves a large and disparate middle group of claimants who are not yet fit for work, and may even have a deteriorating condition, but who are required nonetheless to undertake activity which is meant to help them find work in the longer term. These claimants are placed in the Work-related Activity Group (WRAG). The WRAG covers too wide a spectrum of claimants with very different prognoses and employment support needs.
The Committee recommends that the ESA redesign should aim to ensure that the process properly identifies claimants' health barriers to employment and the particular support they need, so that the conditionality that they are subject to and the employment support they receive can be tailored more closely to their circumstances.
Find similar publications here: