Ensuring Access To Working Antimicrobials
HC 509, First Report of Session 2014-15 - Report, Together with Formal Minutes Relating to the Report
Author:

House of Commons - Science and Technology Committee

Publisher:

TSO (The Stationery Office)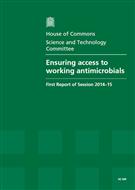 Add to Basket
The report 'Ensuring Access To Working Antimicrobials (HC 509)' argues that it is essential that the Government put urgent measures in place to drastically reduce the unnecessary prescription of antibiotics.
Better education of medical students and greater focus on antimicrobial resistance during clinical career development is also needed. The implementation of new structures and chains of command in the NHS may exacerbate difficulties in limiting the unnecessary use of antibiotics.
The Committee recommends that the Government outlines, in its Action Plan for its Antimicrobial Resistance Strategy, how they will embed responsibilities across all roles within the NHS, and how compliance with the Strategic goals will be monitored and reported.
There is circumstantial evidence that antimicrobial resistance can be transmitted from animal pathogens to human pathogens. The use of tetracycline antibiotics and penicillin in farming as growth promoters has been already banned, but the Committee is worried that the total veterinary use of tetracyclines has increased nearly tenfold, and that of penicillin type antibiotics has increased nearly fivefold Since the Swann Report in 1969. Greater public awareness surrounding the necessity for stewardship of antibiotics is crucial in reducing pressure on practitioners to prescribe antibiotics.
Urgent work must be done with researchers, investors, pharmaceutical companies and other Governments to identify appropriate incentives to encourage the development of new antimicrobials. However, the review will take almost two years to report back with recommendations, but this must not delay work on any pricing alternatives that could be agreed with the pharmaceutical industry over a shorter timescale.
Find similar publications here: