The Referendum On Separation For Scotland: Implications For Pensions And Benefits
HC 498, First Report of Session 2014-15 - Report, Together with Formal Minutes Relating to the Report
Author:

House of Commons - Scottish Affairs Committee

Publisher:

TSO (The Stationery Office)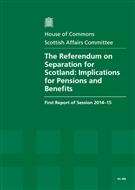 Add to Basket
The Scottish Government's failure to properly cost its plans for both public and private pensions will leave Scots with uncertainty in an area where most value security, according to the report 'The Referendum On Separation For Scotland: Implications For Pensions And Benefits (HC 498)'.
Evidence has cast very serious doubt over the possibility of a separate Scotland setting up a new benefits system by the 2018 deadline set by the Scottish Government. The Committee found that the Scottish Government's stated plans to consider delaying the increase in the pension age to 67, and to pay a proposed higher starting-rate than the rest of the UK, are almost entirely uncosted.
Many public pension schemes are not currently funded up to sufficient levels so the UK Government steps in with additional funding; but the Scottish Government has failed to make clear how much it would cost Scotland to bear these costs after separation.
The proposed Scottish version of the UK Government's National Employment Savings Trust (NEST) would also fail to match the value for money of the current UK system, and could take a long time to set up. On working age benefits, the Scottish Government's plans have failed to acknowledge the costs and complexities of disentangling Scottish claimants from the UK welfare system.
The report concludes that the Scottish Government's plans to run two parallel systems in a transition period to separation are unfeasible. Establishing a new welfare system would be costly and complex and it could not be set up within the Scottish Government's suggested timetable.
Find similar publications here: