Local Transport Expenditure: Who Decides?
HC 1140, Seventeenth Report of Session 2013-14 - Report, Together with Formal Minutes Relating to the Report
Author:

House of Commons - Transport Committee

Publisher:

TSO (The Stationery Office)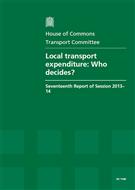 Add to Basket
The report 'Local Transport Expenditure: Who Decides? (HC 1140)' concludes that transport infrastructure in some parts of the UK may get left behind under the new system to be used from next year (2015), to share out central Government money for local major transport schemes.
The Government has again changed the system for distributing money to local areas for major transport projects, with much more emphasis now on competition for funding. This will not necessarily help regions get a fairer share of transport funding and could make the situation worse.
The Government's focus on using competition to bring in private sector funding for projects could disadvantage the regions, where there tends to be less private sector money available compared with London. Those Local Enterprise Partnerships (LEPs) which are well organised and resourced will have an advantage in bidding for funds. Other areas may lose out as a result. In addition, with greater reliance on competitive bidding for funds there will be more money wasted on failed bids.
The changes are set against a backdrop where less money is spent on transport projects outside London than in the capital. Transport infrastructure spending is £2,500 per head in London compared with £5 per head in the north east. This inequality must change.
The Committee calls for the new funding arrangements to be reviewed by the end of the next Parliament to ensure that they are efficient and effective in providing funding for the most urgent transport priorities.
Find similar publications here: