Local Government Procurement
HC 712, Sixth Report of Session 2013-14 - Report, Together with Formal Minutes Relating to the Report
Author:

House of Commons - Communities and Local Government Committee

Publisher:

TSO (The Stationery Office)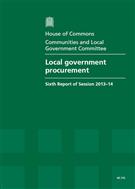 Add to Basket
The report 'Local Government Procurement (HC 712)' examines the efficiency of local authorities' procurement policies, and finds that local government should get better value from the £45 billion it spends each year procuring goods and services.
The report's recommendations include:
Improved collaboration between councils;

Delivering local priorities by letting contracts not just on the basis of price, but on the basis of wider social value;

Cutting burdens on local businesses, imposed in part by a culture of over-zealous application of EU procurement guidelines;

Councils should pro-actively tackle fraud throughout the lifetime of a contract, not just at the tender stage; and

Managing outsourcing, including considering whether a bidder's policies on employment issues, including zero hours contracts should be taken into account when letting contracts.
This requires in-depth skills from all staff involved in designing, commissioning and managing services, as well as procurement officers. The Local Government Association should invest now to ensure procurement skills are embedded across councils.
Find similar publications here: