Asylum
HC 71, Seventh Report of Session 2013-14 - Volume I: Report, Together with Formal Minutes, Oral and Written Evidence
Author:

House of Commons - Home Affairs Committee

Publisher:

TSO (The Stationery Office)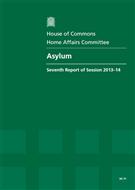 Add to Basket
The asylum system is overburdened and under severe pressure according to the Committee report 'Asylum (HC 71)'.
The backlog of asylum cases that should have been cleared by 2011 has reached 32,600, with some people waiting up to 16 years for a decision. Thousands appear to be living in a sub-standard level of housing as part of the COMPASS contract supplied by the private contractors G4S, Serco and Clearel, and these companies must be held accountable.
The quality of decision making is also of great concern as 30% of appeals against initial decisions were allowed in 2012. The impact of decisions can be grave, if asylum is not granted when it should be then the UK is failing to protect a vulnerable person. If asylum is granted when it is not deserved then the UK may well end up harbouring war criminals and terrorists.
Those who apply for asylum should be checked against national and international law enforcement agency and security databases to ensure that the UK is not harbouring those who intend us harm. The Home Secretary has to give assurance that any anomalies in the process which have allowed decisions such as this to take place, are addressed immediately.
There are also concerns about the level of support available to those who seek asylum in the UK. The Immigration and Asylum Act 1999 section 4, which provides a reduced support system for asylum seekers who have had their claim refused but were unable to return to their country of origin through no fault of their own, is not the solution.
Find similar publications here: