Spending Round 2013
HC 575, Third Report of Session 2013-14 - Volume I: Report, Together with Formal Minutes, Oral Evidence
Author:

House of Commons - Treasury Committee

Publisher:

TSO (The Stationery Office)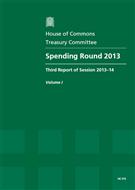 Add to Basket
It is claimed that that coalition politics has encouraged a more formal process in the Spending Round, whether true or not, the fact that the Spending Round was concluded without delay or apparent acrimony is noteworthy in view of the scale of the challenge, which is unprecedented, however the report 'Spending Round 2013 (HC 575)' identifies concerns.
Ring-fencing places the full burden of financial stringency on non ring-fenced departments. Ring-fenced departments may be subject to less financial discipline and scrutiny than non ring-fenced departments and there is a risk that ring-fencing distorts the allocation of resources between Government priorities.
The Government has yet to allay the Committee's concerns about the Help to Buy mortgage guarantee scheme, and the report calls upon the Government to clarify whether anything has been added by the recent announcement to the Financial Policy Committee's (FPC) existing power to make recommendations to the Treasury. The political pressure to extend the scheme could be immense. It is therefore all the more important that the FPC's role be clarified as soon as possible.
A more convincing economic case for the High Speed 2 project is also needed to reassure that it can deliver the benefits intended, and that these benefits are greater than those of other transport schemes whether in the department's project pipeline or not, which may be foregone. The Committee asserts that the Bill should not proceed until this work has been done and the project has been formally reassessed by the Government.
Find similar publications here: