Truth To Power: How Civil Service Reform Can Succeed
HC 74, Eighth Report of Session 2013-14 - Report, Together with Formal Minutes , Oral Evidence
Author:

House of Commons - Public Administration Select Committee

Publisher:

TSO (The Stationery Office)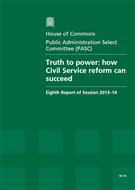 Add to Basket
'Truth To Power: How Civil Service Reform Can Succeed (HC 74)' concludes a year-long inquiry into the future of the Civil Service by the Public Administration Select Committee (PASC).
The Committee makes one main recommendation: that Parliament should establish a Joint Committee of both Houses to sit as a Commission on the future of the Civil Service.
The new Joint Committee should be constituted within the next few months and report before the end of the Parliament with a comprehensive change programme for Whitehall, including a timetable to be implemented over the lifetime of the next Parliament.
The report considers the increased, widely reported tensions between ministers and officials in a wider context of a Civil Service built on the Northcote-Trevelyan settlement of 1853 and the Haldane principles of ministerial accountability set out in 1919.
In this context, the government's Civil Service Reform Plan lacks strategic coherence and clear leadership from a united team of ministers and officials. The Northcote-Trevelyan Civil Service remains the most effective way of supporting the democratically elected Government and future administrations in the UK.
Divided leadership and confused accountabilities in Whitehall have led a low level of engagement amongst civil servants in some departments and agencies, and a general lack of trust and openness. The Civil Service exhibits the key characteristics of a failing organisation with the leadership in denial about the scale of the challenge they face.
There is a persistent lack of key skills and capabilities across Whitehall and an unacceptably high level of churn of lead officials, which is incompatible with good government.
Find similar publications here: