E-Crime
HC 70, Fifth Report of Session 2013-14, Report, Together with Formal Minutes, Oral and Written Evidence
Author:

House of Commons - Home Affairs Committee

Publisher:

TSO (The Stationery Office)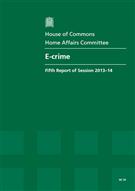 Add to Basket
The threat of a cyber attack to the UK is marked as a higher threat than a nuclear attack. It is possible to steal more on the internet than by robbing a bank, and online criminals in 25 countries have chosen the UK as their number one target. 'E-Crime (HC 70)' is the first report of the Home Affairs Committee into electronic crime.
After a 10 month inquiry the Committee concluded that:
A dedicated state of the art espionage response team should be established so that attacks can be immediately reported;

Banks must be required to report all e-crime fraud to law enforcement;

It is concerning that the Child Exploitation and Online Protection Centre is having its budget cut by 10% over 4 years, its experienced Chief Executive is leaving and it could lose its focus when merged with the National Crime Agency;

It is still too easy for people to access inappropriate online content and those responsible need to take stronger action to remove such content;

The government should draw up a mandatory code of conduct with them to remove material which breaches acceptable standards;

The Director of Public Prosecutions should review sentencing guidance and ensure e-criminals receive the same sentences as if they had stolen the same amount of money or data offline;

The government should look at setting up a similar organisation to the Internet Watch Foundation focused on reporting and removing online terrorist content.
Find similar publications here: