Engaging The Public In National Strategy
HC 435, Fourth Report of Session 2013-14 - Report with Annexes and Appendix, Together with Formal Minutes
Author:

House of Commons - Public Administration Select Committee

Publisher:

TSO (The Stationery Office)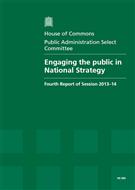 Add to Basket
The report 'Engaging The Public In National Strategy (HC 435)' calls on Government to begin to use deliberative polling to inform national strategy, and recommends that Parliament should step into the void to hold Government accountable to the public's aspirations in this way.
Following its report 'Strategic Thinking In Government' (see below), the Committee commissioned YouGov to conduct a 'deliberative' poll to explore what people feel about the UK's role in the world; what things people feel that governments should spend more or less money on; and in particular, whether they think renewing Trident submarines is right. This was designed to test the Committee's belief that it is possible to engage the public in a meaningful dialogue about the way they see the UK's national interests.
Deliberative polling works by repeatedly asking sets of respondents the same questions on a particular issue. Before the set of questions are posed again, participants are presented with additional information and alternative arguments about the issue.
YouGov's analysis of the results demonstrates that when respondents have been provided with detailed information relevant to the questions they are being asked, they supply nuanced answers that engage in a meaningful way with issues of national strategic interest.
The study shows that the insight into the views and values of the public offered by deliberative polling would make an important contribution to national strategy, though the Government currently declines to use this approach.
Find similar publications here: