Remploy Marine Fife
HC 454, First Report of Session 2013-14 - Volume I: Report, Together with Formal Minutes, Oral and Written Evidence
Author:

House of Commons - Scottish Affairs Committee

Publisher:

TSO (The Stationery Office)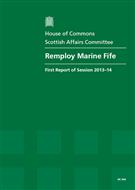 Add to Basket
The report 'Remploy Marine Fife (HC 454)' examines the decision to put Remploy Marine Fife's two factories forward for sale as a part of the Government's plans to withdraw, and ultimately remove funding for Remploy, which provides employment for people with disabilities.
In December 2012, the Government invited bids for the sale of several factories that had not already been sold in the first phase of its plan, including Remploy Fife, an internationally recognised business producing 30,000 lifejackets a year. It has a full order book, and some capacity to expand. Its products have an international quality Kitemark.
The report arrives at three main conclusions:
(i) The Government ought to place the social value of maintaining jobs for disabled people at the centre of its focus, and should pay more attention to the wider financial and social costs of the closure of sites like Remploy Marine Fife.
(ii) The business has considerable potential and should be supported accordingly. Without maintaining this high quality manufacturing base in Fife, it is likely that the lifejackets may be transferred overseas for production, using design and expertise developed there.
(iii) A one size fits all approach does not take account of the unique circumstances and potential of sites like Remploy Marine Fife. The Committee rejects the unyielding, inflexible approach taken by the Department of Works and Pensions, and the failure to offer adequate transitional support.
The outcome of the bidding process should be weighted towards maintaining Remploy sites as viable businesses, and to fulfilling the promise that Remploy Marine Fife possesses.
Find similar publications here: