Department For Education: Capital Funding For New School Places
HC 359, Twelfth Report of Session 2013-14 - Report, Together with Formal Minutes, Oral and Written Evidence
Author:

House of Commons - Committee of Public Accounts

Publisher:

TSO (The Stationery Office)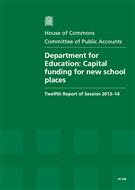 Add to Basket
'Department For Education: Capital Funding For New School Places (HC 359)' reports that 256,000 new school places are needed by September 2014, but the Department for Education (DfE) does not know whether the £5 billion it is contributing will be enough to pay for them.
The Committee criticise the DfE for failing to identify the rising demand for school places. Without enough resources to provide new places, some authorities are forced to sacrifice facilities like music rooms or expand classes beyond the statutory 30 children per class.
The inability of local authorities to require academies and free schools to expand further constrains them. The DfE does not understand the costs for local authorities in delivering places, or the relative value for money of different approaches around the country. The DfE believes that the money it is contributing for new school places will cover all the costs; however, in 2012-13 nearly 65% of authorities were having to dip into their maintenance funding to pay for the extra places, storing up unknown maintenance costs for the future.
What is also being lost is the effect that different ways of providing new places might have on pupils' learning. It does not take much imagination to realise that educational opportunities and standards might be diminished if specialist areas, such as music rooms and libraries, are converted into classrooms, poorly performing schools expanded, or playgrounds used to house children in overcrowded demountables.
Find similar publications here: